We are excited to announce our next show for 2020 – "Into the Woods" This page includes audition and production dates, a list of main character roles and descriptions including audition preparation requirements, and a synopsis of the show.
This link has more information about what happens during the audition process.
Click here to register for auditions.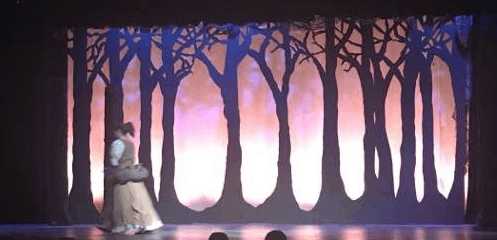 Auditions for Into the Woods will be held November 4 and 6, 2019.
The production dates will be March 27-29, and April 3-5, 2020, and will include ASL, Audio Description, and Sensory Friendly/relaxed performances.
Open Door Theater values and includes people of all nationalities, socioeconomic backgrounds, abilities, races, genders, religions, and sexual orientations in everything we do on stage and off. We welcome the unique insights, perspectives and feedback of all our participants to fulfill our mission and believe that the more diverse our community, the more learning opportunities created. Please let us know if you require an ASL interpreter or other assistance when signing up to audition.
Into the Woods
Music and Lyrics by Stephen Sondheim
Book by James Lapine
Originally Directed on Broadway by James Lapine
Orchestrations by Jonathan Tunick
Into the Woods is presented through special arrangement with Music Theater International (MTI). All authorized performance materials are also supplied by MTI. www.MTIShows.com
When you register for auditions, you will be given an opportunity to specify if you are interested in auditioning for one of the lead roles detailed below. When you get your audition confirmation it will have a link that will allow you to view the required music to prepare. If you are not auditioning for a lead role, you do not need to prepare anything in advance.
| Character | Description | Age | Range | Audition Selection |
| --- | --- | --- | --- | --- |
| Baker | A harried and insecure baker who is simple and loving, yet protective of his family. He wants his wife to be happy and is willing to do anything to ensure her happiness but refuses to let others fight his battles. | 35-45 | Baritone | "It Takes Two" mm. 18-32 |
| Baker's Wife | Determined and bright woman who wishes to be a mother. She leads a simple, yet satisfying life and is very low-maintenance yet proactive in her endeavors. | 35-45 | Mezzo | "Moments In the Woods" mm. 1-44 |
| Cinderella | A young, earnest maiden who is constantly mistreated by her stepmother and stepsisters. | 20-35 | Soprano | "On the Steps of the Palace" mm. 74-end |
| Cinderella's Father | A caring but brow-beaten man who is caught between his daughter and his domineering wife. | 45-65 | | "Act I Opening Part IX" mm. 43-end |
| Cinderella's Mother | Deceased with her soul guarding and aiding her daughter from a tree. Please note that Cinderella's mother will be played by a small chorus of performers, using movement and/or puppetry to represent the tree. | any | Mezzo | "Cinderella At the Grave" mm. 22-30 |
| Cinderella's Prince | Vain and gorgeous, he is a disloyal lover who is currently searching for the next new, exciting thing. | 20-35 | Baritone | "Any Moment Part 1" mm. 21-end |
| Cinderella's Step-mother | The mean-spirited, demanding stepmother of Cinderella. | 45-65 | Mezzo | "Act I Opening Part IX" mm. 43-end |
| Florinda and Lucinda | Cinderella's stepsisters who are black of heart. They follow in their mother's footsteps of abusing Cinderella. | 20-35 | Soprano | "Act I Opening Part IX" mm. 43-end |
| Giant | The Giant's wife is an angry and vengeful 'monster.' She is seeking restitution for her loss. Please note that the giant will be played by a small chorus of performers using movement and/or puppetry. | any | | "Act I Opening Part IX" mm. 43-end |
| Jack | The feckless Giant killer who is 'almost a man.' He is adventurous, naive, energetic, and bright-eyed. | 18-25 | Tenor | "Giants In the Sky" mm. 43-end |
| Jack's Mother | Browbeating and weary, Jack's protective mother who is independent, bold, and strong-willed. | 45-65 | Soprano | "Act I Opening Part V" mm. 12-37 |
| Little Red Ridinghood | A spoiled young girl who is strong-willed, quick-wited, fearless, yet youthful and naive. | 15-20 | Mezzo | "I Know Things Now" mm. 27-end |
| Little Red's Granny | A feisty, fearless woman with lots of love for her granddaughter. | 60-75 | | "Act I Opening Part IX" mm. 43-end |
| Mysterious Man | A mischievous vagrant and nosy meddler. He is a good-natured protector and observer. | 50-65 | Baritone | "No More" mm. 33-68 |
| Narrator | An intellectual and pleasant story-teller who helps to orchestrate the show and illustrate lessons to the audience. Please note that the Narrator will be played by a small chorus of performers who will share the dialogue and tell the story as a group. | any | Baritone | "Act I Opening Part IX" mm. 27-end |
| Rapunzel | A loopy-but-lovely maiden who is sheltered by the Witch and terribly lonely. She yearns to experience the world. | 20-35 | Soprano | No solo |
| Rapunzel's Prince | Just as vain and gorgeous as his Prince brother, he is always chasing the newest, most exiting endeavor. | 20-35 | Baritone | "Agony" mm. 17-32 |
| Stewards | A small group of royal attendants | any | | "Act I Opening Part IX" mm. 43-end |
| Witch | Sarcastic, ugly-then-gorgeous, obsessive protector of Rapunzel who is straightforward and aggressive. | 30-50 | Mezzo | "Witch's Lament" |
| Wolf | Hungry and insatiable hunter who takes advantage of the weak by misleading and captivating his prey. | 30-50 | Baritone | "Hello, Little Girl" mm. 17-48 |
| Fairy Tale Ensemble | An ensemble of various fairy tale characters who will help tell the story | any | | "Act I Opening Part IX" mm. 43-end |
| The Woods Ensemble | An ensemble who will use movement to represent the various creatures and plants that make up the woods. This ensemble will interact closely with the other characters and help tell the story. No dance experience necessary- but strong movers are encouraged to audition for this unique role. | any | | "Act I Opening Part IX" mm. 43-end |
| Cinderella's birds | A small group of performers who will use movement and/or puppetry to represent Cinderella's birds. | any | | "Act I Opening Part IX" mm. 43-end |
| Milky White | a small group of performers who will use movement and/or puppetry to represent Jack's cow | any | | "Act I Opening Part IX" mm. 43-end |
Synopsis taken from Wikipedia
Act I
The Narrator introduces four characters: Cinderella, who wishes to attend the King's festival; Jack wishes his cow, Milky White, would give milk; a Baker and his Wife wish to have a child; Little Red Ridinghood wishes for bread to bring her grandmother
The Baker's neighbor, an ugly old witch, reveals the couple is infertile from a curse she cast on his father for stealing her vegetables, including magic beans. The Witch took the Baker's father's child Rapunzel. She explains the curse will be lifted if she is brought four ingredients – "the cow as white as milk, the cape as red as blood, the hair as yellow as corn, and the slipper as pure as gold" – in three days' time. All begin the journey into the woods: Jack to sell his beloved cow; Cinderella to her mother's grave; Little Red to her grandmother's house; and the Baker, refusing his Wife's help, to find the ingredients ("Prologue").
Cinderella receives a gown and golden slippers from her mother's spirit ("Cinderella at the Grave"). A Mysterious Man mocks Jack for valuing his cow more than a "sack of beans". Little Red meets a hungry Wolf ("Hello, Little Girl"). The Baker, followed by his Wife, meets Jack. They convince Jack that the beans found in the Baker's father's jacket are magic and trade them for the cow; Jack bids Milky White a tearful farewell ("I Guess This Is Goodbye"). The Baker has qualms about their deceit, but his wife reassures him ("Maybe They're Magic").
The Witch has raised Rapunzel in a tall tower accessible only by climbing Rapunzel's long, golden hair ("Our Little World"); a Prince spies Rapunzel. The Baker, in pursuit of the red cape, slays the Wolf and rescues Little Red and her grandmother. Little Red rewards him with her cape, and reflects on her experiences ("I Know Things Now"). Jack's Mother tosses his beans aside, which grow into an enormous stalk. Cinderella flees the Festival, pursued by another Prince, and the Baker's Wife hides her; asked about the ball, Cinderella is nonplussed ("A Very Nice Prince"). Spotting Cinderella's gold slippers, the Baker's Wife chases her and loses Milky White. The characters recite morals as the day ends ("First Midnight").
Jack describes his adventure climbing the beanstalk ("Giants in the Sky"). He gives the Baker gold stolen from the giants to buy back his cow, and returns up the beanstalk to find more; the Mysterious Man steals the money. Cinderella's Prince and Rapunzel's Prince, who are brothers, compare their unobtainable amours ("Agony"). The Baker's Wife overhears their talk of a girl with golden hair. She fools Rapunzel and takes a piece of her hair. The Mysterious Man returns Milky White to the Baker.
The Baker's Wife again fails to seize Cinderella's slippers. The Baker admits they must work together ("It Takes Two"). Jack arrives with a hen that lays golden eggs, but Milky White keels over dead as midnight chimes ("Second Midnight"). The Witch discovers the Prince's visits and demands Rapunzel stay sheltered from the world ("Stay with Me"). She refuses, and the Witch cuts off Rapunzel's hair and banishes her. The Mysterious Man gives the Baker money for another cow. Jack meets Little Red, now sporting a wolf skin cape and knife. She goads him into returning to the Giant's home.
Cinderella, torn between staying with her Prince or escaping, leaves him a slipper as a clue ("On the Steps of the Palace"), and trades shoes with the Baker's Wife. The Baker arrives with another cow; they now have all four items. A great crash is heard, and Jack's mother reports a dead Giant in her backyard. Jack returns with a magic harp. The Witch discovers the new cow is useless, and resurrects Milky White, who is fed the ingredients but fails to give milk. The Witch explains Rapunzel's hair will not work, and the Mysterious Man offers corn silk instead; Milky White produces the potion. The Witch reveals the Mysterious Man is the Baker's father, and she drinks – he falls dead, the curse is broken, and the Witch regains her youth and beauty.
Cinderella's Prince seeks the girl who fits the slipper; the desperate stepsisters mutilate their feet ("Careful My Toe"). Cinderella succeeds and becomes his bride. Rapunzel bears twins and is found by her Prince. The Witch finds her powers are gone. At Cinderella's wedding, her stepsisters are blinded by birds, and the Baker's Wife, very pregnant, thanks Cinderella for her help. Congratulating themselves on living happily "Ever After," no one notices another beanstalk growing….
Act II
The Narrator continues, "Once Upon a Time… Later." Everyone still has wishes: The Baker and his Wife face new frustrations with their infant son; newly rich Jack misses the kingdom in the sky; Cinderella is bored with life in the palace ("So Happy").
With a tremendous crash, a Giant's foot destroys the Witch's garden. The Baker travels to the palace, but his warning is ignored by the Prince's Steward, and by Jack's Mother. Returning home, he finds Little Red on her way to Granny's; he and his Wife escort her. Jack decides to slay the Giant and Cinderella investigates her mother's disturbed grave. Everyone returns to the woods, but now "the skies are strange, the winds are strong" ("Into the Woods" Reprise).
Rapunzel, driven mad, also flees to the woods. Her Prince follows and meets his brother; they confess their lust for two new women, Snow White and Sleeping Beauty.
The Baker, his Wife, and Little Red find Cinderella's family and the Steward, who reveal the castle was set upon by the Giant. The Witch brings news that the Giant destroyed the village and the Baker's house. The Giantess – widow of the Giant Jack killed – appears, seeking revenge. As a sacrifice, the group offer up the Narrator, who is killed. Jack's mother defends her son, angering the Giantess, and the Steward silences Jack's mother, inadvertently killing her. As the Giantess leaves in search of Jack, Rapunzel is trampled ("Witch's Lament").
The Royal Family flee despite the Baker's pleas to stay and fight. The Witch vows to find Jack and give him to the Giant, and the Baker and his Wife split up to find him first. Cinderella's Prince seduces the Baker's Wife ("Any Moment"). The Baker convinces Cinderella to join their group. The Baker's Wife reflects on her adventure ("Moments in the Woods"), but stumbles into the path of the Giant and is killed.
The Baker, Little Red, and Cinderella await the return of the Baker's Wife when the Witch arrives with Jack, found weeping over the Baker's Wife's body. The characters blame each other before turning on the Witch ("Your Fault"). Chastising their inability to accept the consequences of their own actions, the Witch is struck by another curse and vanishes ("Last Midnight").
Grief-stricken, the Baker flees, but is convinced by his father's spirit to face his responsibilities ("No More"). He returns and lays out a plan to kill the Giantess. Cinderella stays behind with the Baker's child and confronts her Prince over his infidelity; he explains his feelings of unfulfillment, and she asks him to leave.
Little Red discovers her grandmother has been killed by the Giantess, as the Baker tells Jack that his mother is dead. Jack vows to kill the Steward but the Baker dissuades him, while Cinderella comforts Little Red. The Baker and Cinderella explain that choices have consequences, and everyone is connected ("No One Is Alone").
The four together slay the Giant, and the other characters – including the Royal Family, who have starved to death, and the Princes with their new paramours – return to share one last set of morals. The survivors band together, and the spirit of the Baker's Wife comforts her mourning husband, encouraging him to tell their child their story. The Baker begins to tell his son the tale, while the Witch offers a final lesson: "Careful the things you say, Children Will Listen" ("Finale").